Functional Neurology: A Deeper Understanding of How the Brain Works
Chiropractic neurology is often described as "functional neurology" in that the focus is on improving function through a brain-based approach. Many times, patients have neurological symptoms that are preventing them from functioning well that are not detectable through blood work or through imaging techniques, such as x-ray, CT scan, or MRI. That's where we come in! Conditions such as vertigo, chronic pain, disc issues, tingling or numbness, movement disorders, ADHD, balance disorders, post-concussive syndrome, and other neurological conditions are often successfully treated or managed by chiropractic neurology.
In essence, functional neurology is the science and art of:
identifying which parts of the brain are working well
detecting which parts aren't working well
using the stronger parts of the brain to help support and heal the weaker parts through specific therapeutic exercises and modalities
Once the above three things are determined through a comprehensive functional neurological examination, a rehabilitation program will be recommended.
Functional neurological rehabilitation therapies specifically address the affected pathways and areas of the central nervous system that are either under-activated or over-activated. A combination of the following forms of rehabilitation may be included in your treatment plan.
Optokinetic/Eye Movement Exercises
Video-nystagmography (VNG) testing may be performed to get a more accurate assessment of what eye exercises are needed in your rehabilitation program. This test allows us to observe and record your eye movements using infrared goggles and helps her to analyze precisely what aspects of your visual-balance system are having difficulty functioning properly. This allows her to customize therapies and exercises for more effective, efficient, and optimal treatment. It is also particularly useful in documenting the initial nature of your injury and your progress.
Video-nystagmography test (VNG)
These exercises are very powerful for increasing activation in the area/s of the brain that are not functioning at their highest potential. The specific forms of eye movement exercises for your treatment are based on the findings from your clinical examination and your diagnosis. They may include tracking exercises, gaze stability, vestibulo-ocular reflex therapy, and therapies to improve eye movements necessary for reading, driving, and sports activity.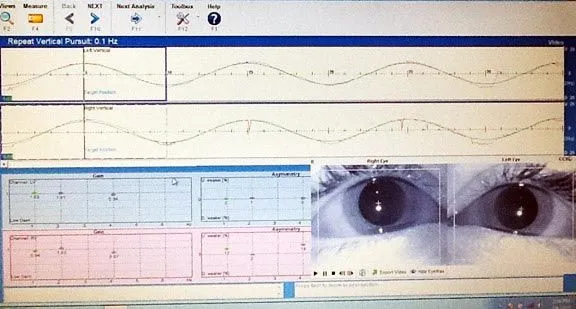 Balance and Coordination Therapy
This type of therapy utilizes the balance board to increase activation of the parts of your brain that control posture, head-eye movements, and core stability. This therapy may be combined with forms of movement exercises such as ball throwing/catching, or complex movements of the extremities.
Complex Movement Exercises
This type of therapy requires activation of the motor regions of the brain and is specifically performed on the side that activates the area that is deficient, or dampens the area that is over-activated. They may include copying movements, mirror therapy, throwing/catching a ball, kicking/stopping a ball, pointing/tracing therapy. While these may seem like trivial movements to some, in a brain/body that has a functional deficit they are in fact very powerful forms of rehabilitation, as the specific movements have particular areas of the brain which they target.
Vestibular Rehabilitation
This form of functional neurological rehabilitation is specifically designed to target the various parts of the vestibular system (inner ear, cerebellum), which are at the root of conditions affecting balance and coordination. This type of therapy may include balance board and various forms of stability work, complex patterned movements of the extremities, therapeutic spinning, other rotational forms of movement, positional maneuvers and eye exercises.
Dynavision Training
The Dynavision D2 is a visuomotor and cognitive training system designed to work on the visual and motor deficits that often occur after neurological injuries or illnesses. Through the use of this device, we can address deficits such as visual field loss, scanning, attention, motor processing and reaction times.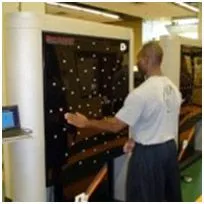 What You Can Expect to Improve with D2 Training:
Eye-hand Coordination
Peripheral Awareness
Cognitive Processing Ability
Speed and Span of Recognition
Decision Making under Stress
Anticipation Timing
Concentration
Visual Reaction Time
Focusing and Tracking
Depth Perception
The most unique and important contribution of the Dynavision™ to rehabilitation is its capacity to challenge the peripheral visual system. Peripheral visual attention is needed to protect an individual from potential dangers in the environment, and speed in searching the peripheral visual field is critical to safety in environments involving rapid visual changes such as is encountered in driving or sports activities.