A concussion is a type of brain injury that changes the way the brain normally works. A concussion is caused by a bump, blow, or jolt to the head. Concussions can also occur from a blow to the body that causes the head and brain to move rapidly back and forth. Concussions can happen with falls, auto accidents, or sports injuries. Most concussions occur without loss of consciousness. Concussions can have a serious effect on the brain and need to be addressed correctly.
What is post-concussion syndrome?
Post-concussion syndrome (also sometimes called mild traumatic brain injury or mTBI) refers to persistent signs and symptoms that a person has following a concussion.
These symptoms may not be present or noticed at the time of injury. They may be delayed days or weeks before they appear. The symptoms are often subtle and are often missed by the injured person, family and doctors.
The person looks normal and often moves normally in spite of not feeling or thinking normally. This makes the diagnosis easy to miss. Family and friends often notice changes in behavior before the injured person realizes there is a problem. Frustration at work or school or when performing household tasks may bring the person to seek care from a chiropractic neurologist.
COMMON POST-CONCUSSION SYMPTOMS:
PHYSICAL SYMPTOMS
Headaches or head pressure
Fatigue/ poor endurance when doing usual activities
Sensitivity to Light and/or Sound
Dizziness
Balance Issues
Changes in sleep patterns or difficulty sleeping
Double vision or blurry vision
Decreased coordination
Nausea
Numbness or tingling
Uncomfortable with motion occurring off to one side
COGNITIVE SYMPTOMS
Difficulty thinking or slowness in thinking
Trouble finding words
Getting lost easily/ disoriented
Difficulty reading
Trouble concentrating or focusing
Poor memory
Feeling "foggy" or dazed
EMOTIONAL SYMPTOMS
More emotional than usual
Irritable
Feeling or appearing "flat"
Anxious or nervous
Depressed or sad
WHAT TO EXPECT
The doctors at Sunset Chiropractic will evaluate your signs and symptoms, review your medical history, and conduct a comprehensive examination.
Tests we may perform or recommend include:
After we have asked detailed questions about your injury, we may perform a neurological examination. This evaluation includes checking your:
Vision
Hearing
Strength and sensation
Balance
Coordination
Reflexes
We may conduct several tests to evaluate your thinking (cognitive) skills during a neurological examination. Testing may evaluate several factors, including your:
Memory
Concentration
Ability to recall information
Special tests
The doctors at Sunset Chiropractic may recommend special testing on one or more of the following state-of-the-art devices:
​Digital radiography is state-of-the-art equipment that gives clear, sharp images of the skeletal system. The use of a digital x-ray machine allows the doctors at Sunset Chiropractic to view and analyze your films immediately, giving you your results right away. We can also easily make a copy of your x-ray study to take with you, if desired.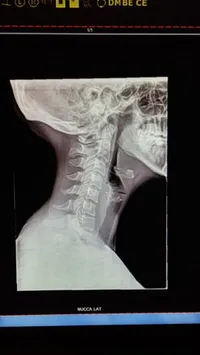 ​Video-nystagmography test (VNG)
This test allows us to observe and record your eye movements using infrared goggles and helps to analyze precisely what aspects of your visual-balance system are having difficulty functioning properly. This allows us to customize therapies and exercises for more effective, efficient, and optimal treatment. It is also particularly useful in documenting the initial nature of your injury and your progress.
The Dynavision D2 is a visuomotor and cognitive training system designed to work on the visual and motor deficits that often occur after neurological injuries or illnesses. Through the use of this device, the doctors at Sunset Chiropractic can address deficits such as visual field loss, scanning, attention, motor processing and reaction times.
What You Can Expect to Improve with D2 Training:
Eye-hand Coordination
Peripheral Awareness
Cognitive Processing Ability
Speed and Span of Recognition
Decision Making under Stress
Anticipation Timing
Concentration
Visual Reaction Time
Focusing and Tracking
Depth Perception
The most unique and important contribution of the Dynavision™ to rehabilitation is its capacity to challenge the peripheral visual system. Peripheral visual attention is needed to protect an individual from potential dangers in the environment, and speed in searching the peripheral visual field is critical to safety in environments involving rapid visual changes such as is encountered in driving or sports activities.